Dog 🐕 training tips for beginners – Education is every Puppy's right.
dogsadmin
0 Comments
April 18, 2022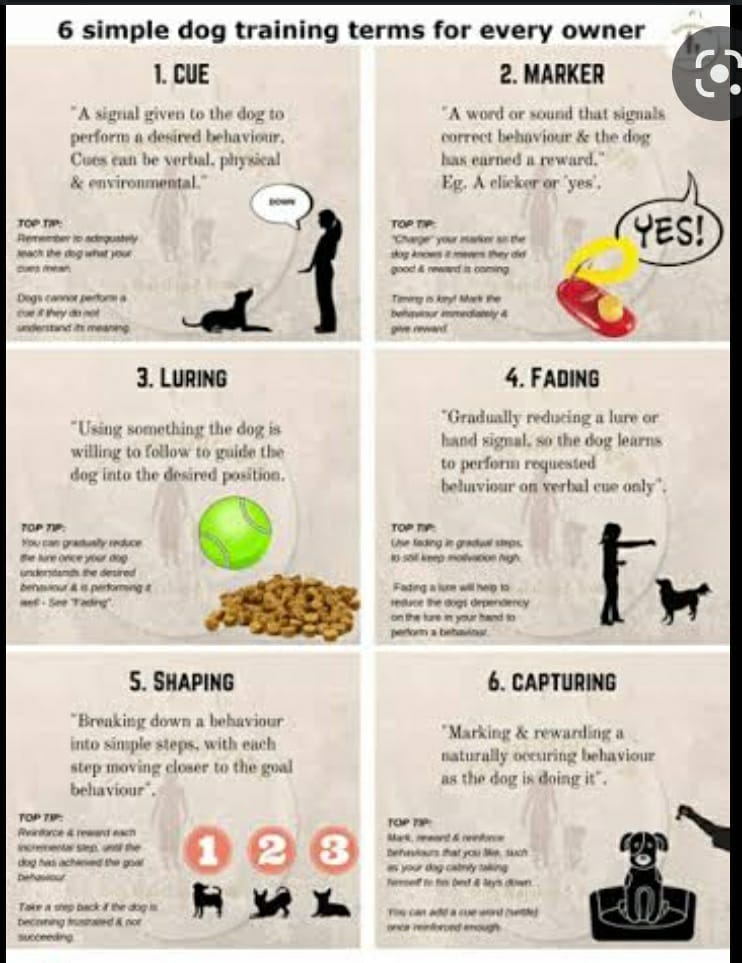 6 simple dog training terms for every owner
1. CUE
"A signal given to the dog to perform a desired behavior. Cues can be verbal, physical & environmental.
TOP TIP:
Remember to adequately teach the dog what your cues mean
Dogs cannot perform a cue if they do not understand its meaning
2. MARKER
"A word or sound that signals correct behavior & the dog has earned a reward." Eg. A clicker or 'yes'.
YES!
TOP TIP:
"Charge your marker so the dog knows it means they did good & reward is coming.
Timing is key! Mark the behavior immediately & give reward
3. LURING
"Using something the dog is willing to follow to guide the dog into the desired position.
TOP TIP:
You can gradually reduce the lure once your dog understands the desired behavior & is performing it well-See "Fading"
4. FADING
"Gradually reducing a lure or hand signal, so the dog learns to perform requested behavior on verbal cue only".
TOP TIP:
Use fading in gradual steps, to keep motivation high ( will depend on your goals with the dog & the environment )
Fading a lure will help to reduce the dogs dependency on the lure in your hand to perform a behavior
5. SHAPING
"Breaking down a behavior into simple steps, with each step moving closer to the goal behavior".
TOP TIP:
Reinforce & reward each incremental step, until the dog has achieved the goal behavior.
Take a step back if the dog is becoming frustrated & not succeeding.
6. CAPTURING
"Marking & rewarding a naturally occurring behavior as the dog is doing it".
TOP TIP:
Mark, reward & reinforce behaviors that you like, such as your dog calmly taking himself to his bed & lays down
You can add a cue word (settle) once reinforced enough.
Start with Luring ,teach the dog the cues .
Mark the dog on time .
Fading is super important for long term results.